The Palestinian militant group Hamas launched an unprecedented assault on Israel on Saturday, with hundreds of gunmen infiltrating communities near the Gaza Strip.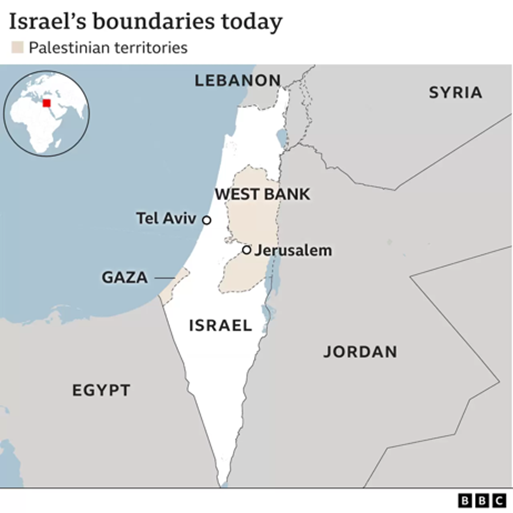 At least 1,300 Israelis have been killed, while dozens of soldiers and civilians, including women and children, are being held in Gaza as hostages. More than 1,300 Palestinians have also been killed in numerous air strikes on Gaza that Israel's military is carrying out in response, and Israel has imposed a total blockade on the territory, denying it food, fuel and other essentials. It is also massing its forces along the Gaza border and Palestinians are bracing themselves for a ground operation which could cost many more deaths.
What's been going on lately to make things heat up again between Israel and Hamas, and how do the past events play into this never-ending conflict?
A brief look into the incidents which escalated into the following event:
August 2005: Israeli forces unilaterally withdrew from Gaza 38 years ago, abandoning settlements and leaving the enclave under the control of the Palestinian Authority.
January 25, 2006: The Islamist group Hamas won a majority of seats in a Palestinian legislative election. Israel and the United States cut off aid to Palestinians because Hamas refuses to renounce violence and recognize Israel.
June 25, 2006: Hamas militants capture Israeli army conscript Gilad Shalit in a cross-border raid from Gaza, prompting Israeli air strikes and incursions.
June 14, 2007: Hamas takes over Gaza in a brief civil war, ousting Fatah forces loyal to Palestinian President Mahmoud Abbas.
December 27, 2008: Israel launches a 22-day military offensive in Gaza after Palestinians fire rockets at Sderot. About 1,400 Palestinians and 13 Israelis are reported killed.
November 14, 2012: Israel kills Hamas's military chief of staff, Ahmad Jabari. Eight days of Palestinian militant rocket fire and Israeli air strikes follow.
July-August 2014: The kidnap and killing of three Israeli teenagers by Hamas led to a seven-week war in which more than 2,100 Palestinians are reported killed in Gaza and 73 Israelis were reported dead.
March 2018: Palestinian protests begin at Gaza's fenced border with Israel. More than 170 Palestinians are reported killed in several months of protests.
May 2021: After weeks of tension during Ramadan, hundreds of Palestinians are wounded in clashes with Israeli security forces at the Al Aqsa compound in Jerusalem. After demanding Israel to withdraw forces, Hamas unleashes a barrage of rockets from Gaza into Israel. Israel hits back with air strikes on Gaza.
Aug 2022: At least 44 people, including 15 children, were killed in three days of violence that began when Israeli air strikes hit a senior Islamic Jihad commander. In response, Islamic Jihad fired more than 1,000 rockets towards Israel. Israel's Iron Dome air defense system prevents any serious damage or casualties.
Jan 2023: Islamic Jihad in Gaza fired two rockets towards Israel after Israeli troops raided a refugee camp and killed seven Palestinian gunmen and two civilians. Israel responds with air strikes on Gaza.
October 2023: Hamas launched the biggest attack on Israel in years from the Gaza Strip, with a surprise assault combining gunmen crossing the border with a heavy barrage of rockets.
So now let's talk about what are the main problems between Israelis and Palestinians.
What should happen to Palestinian refugees?
Whether Jewish settlements in the occupied West Bank should stay or be removed?
Whether the two sides share Jerusalem?
And – perhaps most tricky of all – whether a Palestinian state should be created alongside Israel.
So, who's got whose back in this Israel-Hamas showdown, and what are they doing to help out?
The US, the European Union, and other Western countries have all condemned the Hamas attacks on Israel. The US, Israel's closest ally, has over the years given the Jewish state more than $260bn in military and economic aid and is promising additional equipment and ammunition. It also said it was sending an aircraft carrier, other ships, and jets to the eastern Mediterranean.
Russia and China have both refused to condemn Hamas and say they are maintaining contact with both sides in the conflict. Russian President Vladimir Putin has blamed US policy for the absence of peace in the Middle East. Regional power Iran, meanwhile, is a key supporter of Hamas, as well as that of another regional enemy of Israel, the Lebanese Hezbollah movement.
So, what kind of economic fallout can we expect from this conflict?
The escalation in the Israel-Hamas conflict has raised concerns about its potential impact on India's trade and diplomatic relationships in the region. Let's take a deeper look at the situation:
1. Trade Disruption: India's trade with Israel, valued at approximately $10.7 billion in FY23, could face significant disruptions if operations at Israel's three largest ports are affected. These ports handle a wide range of shipments, including agricultural products, chemicals, electronics, machinery, and vehicles.
2. Oil Price Surge: Global oil prices have soared due to tensions in the Middle East, home to nearly a third of the world's oil supply. Brent crude surged by 3.44% to $87.49 a barrel. This sharp increase could have far-reaching effects on the global economy.
3. Inflation Threat: Rising oil prices can lead to high import inflation for major economies, including the United States, India, and China.
4. Market Jitters: The Israel-Hamas war has sent shockwaves through equity markets worldwide. Investors are adopting a risk-off sentiment, leading to declines in the US stock futures and Asian markets.
5. Diplomatic Challenges: As the conflict continues, India's diplomatic stance could become more complex, especially if other Arab countries become involved. Prime Minister Narendra Modi has expressed solidarity with Israel in the wake of the attacks.
6. Regional Security Concerns: While a direct conflict between Hamas and Israel may not have an immediate impact on India, the involvement of other actors like Hezbollah and Iran could significantly destabilize the West Asian region.
A deep down analysis, if Iran directly or indirectly gets involved in the war then definitely the supplies for crude oil can get impacted. This will lead to supply-side inflation and if that be so the crude oil prices can rise. Crude oil is one of the important imports for India, and if the crude oil prices rise then it will not be a good sign for our economy. So this is the connection between Iran's economy and our import bill.
Now let's understand, the impact of this war on two important points, one is precious metals and the second one is fixed income.  Typically when a war-like situation occurs all the economies try to park their money in comparatively safer assets and gold is a classic example of a safe asset this could lead to an increased demand for gold and that is the reason why there are great chances that gold can bottom out from here and may see a little bit up move.
The yield on the Indian 10-year government bond was at the 7.3% mark, retreating sharply from the seven-month high of 3.4% touched on October 9th.
The above graph reflects fluctuations in long-term interest rates over time
Now, as far as the short term is concerned because of inflationary trends that can kick in, and because of inflation typically bond yield rises it is not at all good for Indian or any other stock market because then investors try to pull out money from the stock market and park their money in comparatively safer assets classes like bonds so in short term, there is a chance that bond yields may spike up. In the long term, there is a chance that overall production will be cut and overall demand will be lowered and this may lead economies into a recessionary trend. Now if the economies are going into recessionary trends, what the government needs to do to tackle this is to lower the overall interest rates, and if interest rates are lowered then ideally the bond yields also start cooling off and that is the reason in medium and long term bond yields will fall.
In summary, the Israel-Hamas conflict has far-reaching implications, extending beyond the Middle East and impacting India's trade and diplomacy. Economic peace initiatives, like the Oslo Accords and the Quartet's Roadmap for Peace, emphasize economic collaboration as a key to resolution. Humanitarian concerns are also significant, with a focus on civilian protection, aid delivery, and mental health support.
As India navigates this complex landscape, challenges such as trade disruptions, oil price surges, and inflation must be managed. Diplomatic intricacies and regional security add to the complexity. Precious metals like gold may gain demand as safe-haven assets and short-term bond yields could spike due to inflation. The long-term outlook hinges on how the conflict shapes global production and demand, potentially affecting bond yields and economic stability. Balancing these economic and diplomatic aspects is crucial for India in this volatile geopolitical landscape.
Reference:
https://www.linkedin.com/search/results/all/?keywords=israel war&origin=TYPEAHEAD_HISTORY&searchId=be556e84-ccd7-459d-a61f-7cf1caf9db70&sid=%3BxS&spellCorrectionEnabled=true
https://www.rachanaranade.com/